Pumpkins at Crockford Bridge Farm
We are open for Pumpkin Sales from Saturday 6th October until the end of October! Pre-harvested Pumpkins are available for sale in Crockford's Corner and also in our Farm Shop.
Pumpkin Patch Event
Our Pumpkin Patch has grown year on year and we now welcome more visitors than ever would have been imaginable when we opened the first Pumpkin Patch 15 years ago.
It is wonderful to welcome so many people to the farm and what was once a simple pumpkin sales week has grown into a fully fledged event enjoyed by thousands.
Charging an entry fee allows us to reinvest this money back in to the Pumpkin Patch. Every year, better facilities, more staff, decorations and activities make our Pumpkin Patch fun for all.
Pumpkin Picking Weekends;
Due to the extreme heat of 2018 we are opening our Pumpkin fields to the public for the first time ever. Pumpkins will be available to pick directly from our fields on the following weekends only;
Sat 6th/Sun 7th October
Sat 13th/Sun 14th October
Please bring cash to pay for your pumpkin as there are no card payment facilities in our fields.
Jack & Mr. Beanz Stalk
20th Oct 2018 - 28th Oct 2018
During Half Term, The Wonder Wood opens with a cast of travelling performers arriving to tell their tale.
Please remember, tickets too the Wonder Wood shows are for a specific time. Tickets are non transferable. If you are late you will miss your show!
Plumpkin Half term fun
20th Oct - 28th Oct 2018
A £5 entry charge applies during half term (free for ticket holders for our Immersive show in the Wonder Wood (this charge is reinvested in the farm to help us improve your experience when visiting.)
During Half term, the Plumpkins emerge from their Barn to take over Crockford's Corner bringing a wealth of fun activities with them.
Theatrical Show - Book tickets early to visit our quirky, immersive theatrical show in the Wonder Wood.
Face Painting - A visit to our professional face painters is part of the fun (seperate charge applies - cash only)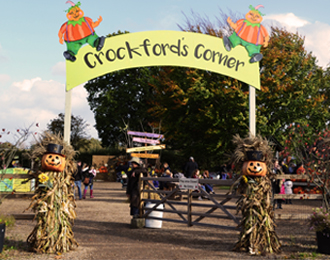 Pumpkin Carving/Decorating save on the mess at home. Carve your pumpkin in the pumpkin patch and let us clear up the mess!
WE CANNOT PROVIDE SHARP KNIVES FOR HEALTH & SAFETY REASONS
Pop Up Food
Every year different pop up food vendors bring a varied offering of delicious, freshly cooked food.
The I'Scream Parlour - Our Ice Cream Parlour is open serving 24 flavours of incredible Italian Gelato from nearby Geleteria Danieli.
Tea Shack - The Tea Shack is open serving Coffees, Hot Chocolate with marshmalows, Toffee apples and more!
Play area, slides, treehouse and more!
b083fe9562de1799267a15.jpg
b083fe9562de1799267c16.jpg
b083fe9562de1799267914.jpg
b083fe9562de1799267e17.jpg
b083fe9562de1799267713.jpg
Halloween PP edit crop.jpg
pumpkin-patch-IMG_4243_400.jpg
child-playing-scavenger-hunt.jpg
pumpkin-patch-crockford-compressed.jpg
Halloween PP edit crop.jpg
Hungry Halloween - Edit sml.jpg
Envy Halloween - edit sml.jpg
Hungry Halloween - Edit sml.jpg
FAQ's
Can I pick my own Pumpkin from the field?
Yes but only during our Pumpkin Picking Weekends. Unlike other farms we do not open our growing fields for pumpkin picking. We harvest and clean our pumpkins ourselves displaying them for you to select in our 'Pumpkin Patch. This is due to the very real risk of groundfrosts causing damage to pumpkins left out in the fields in late October.
Do you take Card Payments?
We have a limited ability to take card payments as our event takes place outdoors on a working farm. Entry to the Pumpkin Patch is cash only although card payments are accpeted in the Pumpkin Sales tent, Ice Cream Parlour and Tea Shack
Please bring cash as there is not an ATM on the farm.
Is there an entry charge to the Pumpkin Patch event?
Yes there is a small entry charge to enter the farm during our Pumpkin Patch Event (20th- 28th October).
This token charge is to offset the operating costs of accomodating thousands of visitors during our Pumpkin Patch event (extra staff, car park marshalls, toilet hire etc)
Entry to the Pumpkin Patch event is included in the ticket price for those visiting our woodland theatrical show.
For those not wishing to pay for entry to The Pumpkin Patch, there is a wide selection of Pumpkins available for sale in our Farm Shop which is free to enter.
How can I book tickets to the Woodland Show?
You can book tickets to our Woodland Theatre show by clicking here (theatre tickets include entry to The Pumpkin Patch).
Tickets just to enter The Pumpkin Patch cannot be booked in advance, simply turn up on the day (cash only)
Is there parking available?
Yes, there is plenty of free parking available on The Farm. Please use the Farm Car Park rather than the adjacent Garden Centre Car Park.
Click here for directions and travel information.
Can I bring a picnic?
No, Food and drink may not be bought in to the Pumpkin Patch or the farm. We have tried our best to accommodate picnickers in the past, but sadly have been overwhelmed with littering in recent years. The Pumpkin Patch is a catered event. Food and drink are available to purchase once inside.
Can I bring my dog?
No, sadly dogs are not allowed during our Pumpkin Patch Event. The Farm is simply too busy with hundreds of very excited children running around. We are very happy to welcome dogs on leads to the farm for the rest of the year and apologise for any inconvenience.
Can I carve my Pumpkin?
Yes, during Half Term we have a dedicated carving area where you can carve your own Pumpkin. (Sorry only Pumpkins purchased from us, you can't bring your own). For Health & Safety reasons we cannot provide knives for you to carve with. Pumpkin carving kits are available to purchase.
"Super good fun in the pumpkin patch !! Loved carving pumpkins and my little one had a blast on the playground!"

5 Star Review from Sofia Almudena Plana on Facebook

"We visited for the first time yesterday and had such a lovely afternoon choosing pumpkins, eating toffee apples and exploring. A wonderful place!"

5 Star Review from Megan Rorke on Facebook