Welcome to our Pumpkin Patch
Unlike other farms we do not open our Pumpkin fields to the public for picking. All of our pumpkins are harvested in late Summer and displayed for sale in our American style 'Pumpkin Patch event' at Crockford's Corner.
Half term fun
21st Oct 2017 - 30th Oct 2017
Towards the end of October, the Pumpkin displays get larger and larger until The Plumpkins are enticed out of their barn.
During Half Term, The Plumpkin's take over the Pumpkin Patch bringing a whole host of fun activities, pop up food stalls and more.The Wonder Wood opens with a cast of travelling performers arriving to tell their tale.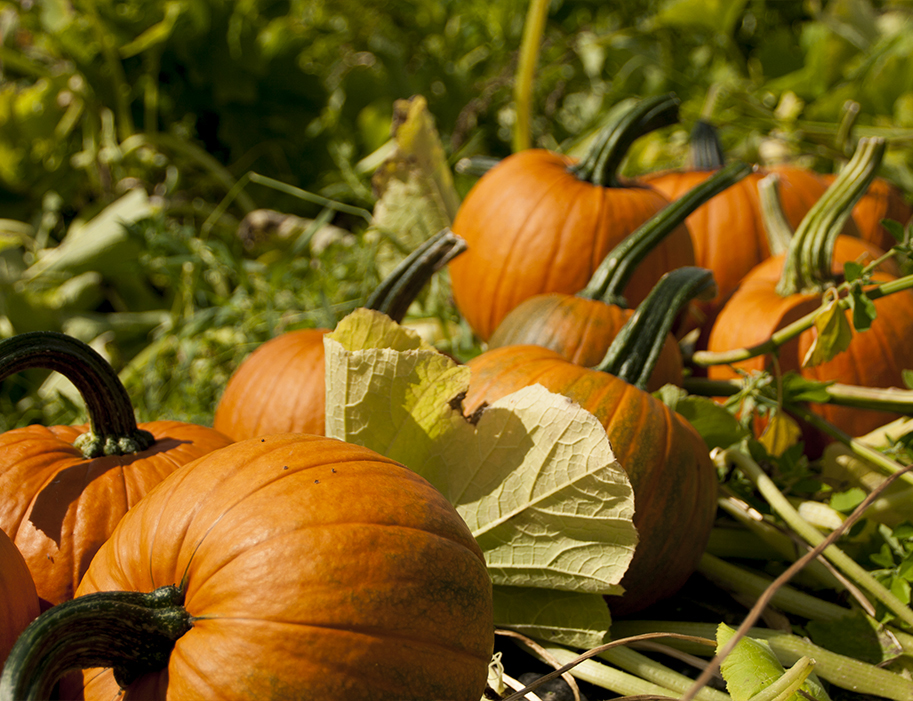 Why we harvest our crop early
We harvest our pumpkin crop before October due to the very real risk of damage caused by October ground frosts as well as accidental damage caused by picking this heavy, yet surprisingly fragile crop.
Harvesting our pumpkins this way allows us to clean and grade our crop ensuring it reaches you in perfect condition, it also saves you the inconvenience of carrying a heavy, muddy pumpkin directly from the field.
Plumpkin Half term fun21st Oct - 29th Oct 2017
Entry £2 pp (cash only at entrance)
During Half term, the Plumpkins emerge from their Barn to take over Crockford's Corner bringing a wealth of fun activities with them.
Theatrical Show - Book tickets early to visit our quirky, immersive theatrical show in the Wonder Wood.
Apple Bobbing - Try your best to sink your teeth into a juicy apple!
Face Painting - A visit to our professional face painters is part of the fun (not included in entry price)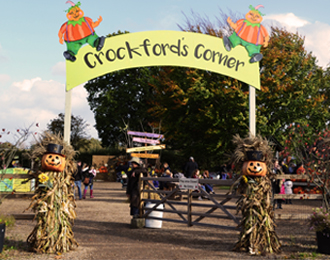 Pumpkin Carving/Decorating save on the mess at home and carve your pumpkin here, let us clear up the mess!
Pop Up Food
Every year we our pop up food vendors bring a varied offering of delicious, freshly cooked food.
The I'Scream Parlour - Our Ice Cream Parlour is open serving 24 flavours of incredible Italian Gelato and freshly cooked waffles.
Tea Shack - The Tea Shack is open serving Coffees, Hot Chocolate, Toffee apples and more!
Play area and zip wire!
b083fe9562de1799267a15.jpg
b083fe9562de1799267c16.jpg
b083fe9562de1799267914.jpg
b083fe9562de1799267e17.jpg
b083fe9562de1799267713.jpg
Halloween PP edit crop.jpg
pumpkin-patch-IMG_4243_400.jpg
child-playing-scavenger-hunt.jpg
pumpkin-patch-crockford-compressed.jpg
Halloween PP edit crop.jpg
Hungry Halloween - Edit sml.jpg
Envy Halloween - edit sml.jpg
Hungry Halloween - Edit sml.jpg
Snow White and the Seven Deadly Sins
During the Plumpkins takeover, the Wonder Wood opens for our famous, quirky immersive theatre.
Sat 21st - Sun 29th Oct 2017.

This year join Snow White and come face to face with the Seven Deadly Sins.
Sorry, all performances have now all sold out.
Useful information
Our Pumpkin Patch takes place on a working farm. Unfortunately there are no cash machines on site and a limited ability to take card payments. Some stallholders and activities are unable to take card payments. Please ensure you bring sufficient cash with you.

During half term there is an entry charge for admission to the Pumpkin Patch. This charge is payable on the day, cash only please!
Entry to the Pumpkin Patch event is free for those holding a valid ticket to our woodland theatrical show.
There is plenty of free parking on site. Please click here for directions and travel information.
Food and drink may not be bought in to the Pumpkin Patch. We have tried our best to accommodate picnickers but sadly have been overwhelmed with littering in recent years. The Pumpkin Patch is a catered event. Food and drink are available to purchase once inside.
Sadly dogs are not allowed during half term week. Whilst we are very happy to accommodate dogs every other week of the year, Pumpkin Patch is simply too busy for this and we do apologise for any inconvenience.
Pumpkin carving kits are available to purchase in the Pumpkin Patch. Alternatively you may wish to bring your own utensils, for Health and Safety reasons we are unable to provide knives for you to carve with.
"Super good fun in the pumpkin patch !! Loved carving pumpkins and my little one had a blast on the playground!"

5 Star Review from Sofia Almudena Plana on Facebook

"We visited for the first time yesterday and had such a lovely afternoon choosing pumpkins, eating toffee apples and exploring. A wonderful place!"

5 Star Review from Megan Rorke on Facebook