Welcome to October at Crockford Bridge Farm
We are one of Surrey's largest growers of Pumpkins and are renowned for the high quality of our crop which is painstakingly harvested by hand every year.
Tickets for our October events are usually released around the start of September.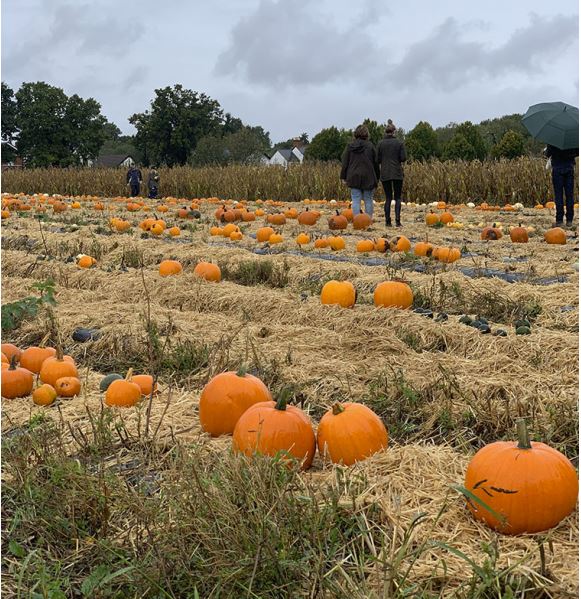 What's happening in October?
There are lots of different things happening throughout October. Please take a look at our October calendar to see what's happening, particularly if you're making a long journey.
Pumpkin Field Picking.
First two weekends of October ONLY. Pre-booking is essential. BOOK HERE. Picking directly from our field stops in mid October due to the risk of groundfrost damage.
Pumpkin Festival
3rd weekend of October (16th/17th Oct 21) and Half Term week (23rd - 31st October 21)
Pumpkin Market
Our Pumpkin sales area is during October 10am - 5pm selling pre-picked Pumpkins for those who don't want to pick from the fields or visit our Pumpkin Festival.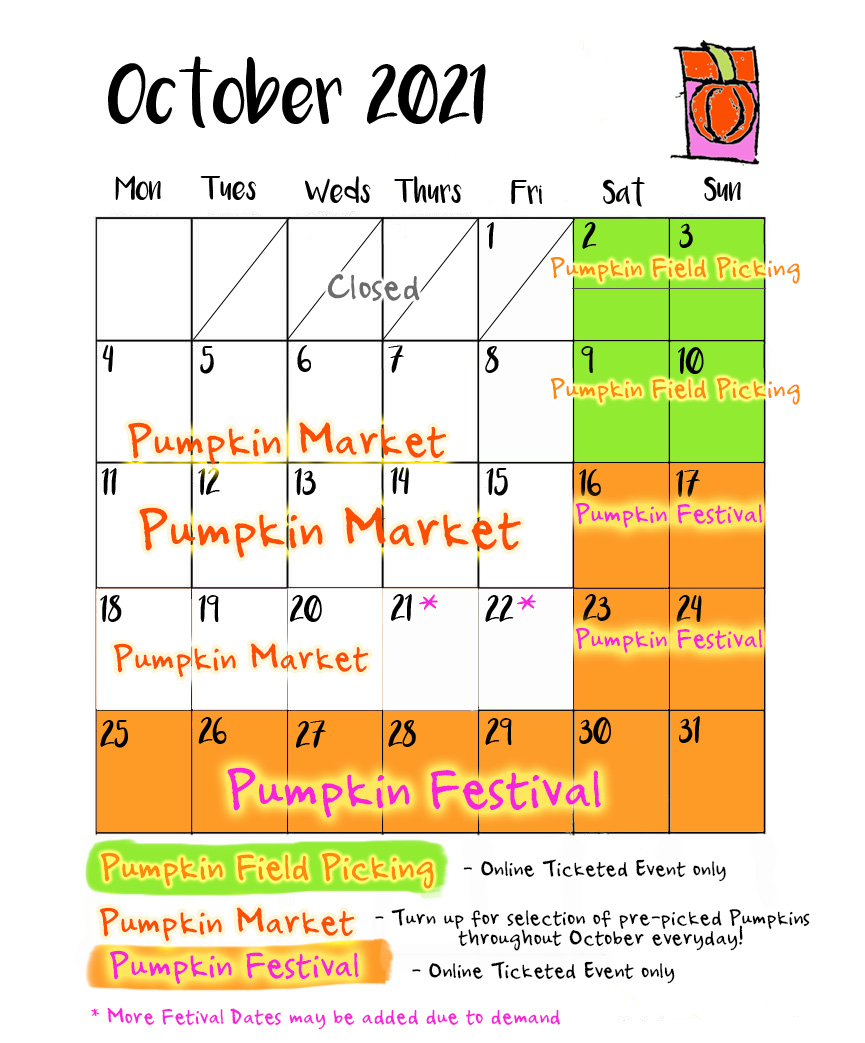 Pumpkin Festival
Join us during the last week of October (half term) for our Pumpkin Festival. Please note that Pumpkin Picking is a separate event which finishes before the Pumpkin Festival begins. Pumpkins cannot be picked from our fields during the Pumpkin Festival
Pre harvested Pumpkins are available to purchase every day during in October from the Pumpkin Market located outside of the Pumpkin Festival event.
Sat 16th & Sun 17th Oct 2021
Sat 23rd Oct - Sun 31st Oct 2021
There are three different timed sessions throughout the day to choose from;
10:00 - 12:00
12:30 - 14:30
15:00 - 17:30
Tickets are non refundable. If you have booked for the wrong date or time, please email us general@crockfordbridgefarm.co.uk DO NOT MAKE A SECOND BOOKING.
Whats at the Pumpkin Festival?
Festival Entertainment from the Enchanted Players Theatre Company. Roving characters and festival fun.
Outdoor pumpkin Carving and decorating area. We've made our Pumpkin Carving area bigger and better this year. There's plenty to do including knife free decorating for the little ones. Send us pictures of your best effort for a chance to win prizes in our carving and decorating competition. We can't provide sharp knives to children for Health & Safety Reasons. *Pumpkins are not included in your entry ticket and are only available to purchase while stocks last (please bear this in mind if booking close to Halloween)*
Fun Activities for children and those who are children at heart. Try your luck at the Pumpkin Shy!
Thousands of Pumpkins and Squashes -Browse thousands of pumpkins laid out for sale in our Pumpkin Sales areas. Have fun enjoying our quirky autumnal displays *Pumpkins are not included in your entry ticket and are only available to purchase while stocks last (please bear this in mind if booking close to Halloween)*
Photo Opportunities, Pumpkin displays and arty installations
Our Ice Cream Parlour is open serving a wide range of incredible Italian Gelato from nearby Geleteria Danieli.
Tea Shack. Enjoy a warming hot chocolate with cream and marshmallows, Farm Fresh apple juice direct from the tap (no wasteful bottles for us), Halloween chocolates and Toffee Apples (while stocks last). The Tea Shack and Ice Cream Parlour are only open to Festival Ticket holders to reduce queues for ticket holders.
Pop Up Food. Poor Boys will be on site every day offering New Orleans Street Food.
UNADJUSTEDNONRAW_thumb_c666.jpg
UNADJUSTEDNONRAW_thumb_c640.jpg
Envy Halloween - edit sml.jpg
Hungry Halloween - Edit sml.jpg
UNADJUSTEDNONRAW_thumb_c4da.jpg
OxKXcr7XTIG6BVWx9DI+Fg_thumb_c6a9.jpg
FdNORVCjQm+BH6gpb2kXfw_thumb_c78a.jpg
3eOyeavYT%uiHLIbFDaVrw_thumb_c783.jpg
zQf0lVEcR2SQBajGmQqHGA_thumb_c776.jpg
ri9WHWfLRGeuUVgqSlK0Dg_thumb_c778.jpg
hYMvBHaOT+WPW0mSp5vvXA_thumb_c775.jpg
gVwML0OsT2yu3MOIAW8YwA_thumb_c77f.jpg
gX7pGQuARt64vrylS7me3A_thumb_c77c.jpg
UNADJUSTEDNONRAW_thumb_c660.jpg
UNADJUSTEDNONRAW_thumb_c58e.jpg
XgS4CsyrSx+n%EkSRtdbEQ_thumb_c5d0.jpg
PYvdRW+VRlakzW++gHGALg_thumb_c5ec.jpg
UNADJUSTEDNONRAW_thumb_c576.jpg
DPWsdXIfQQeU9R1ObkoIxQ_thumb_c5e6.jpg
FqCo6O0ARPOdjLb8dJ0obQ_thumb_c5de.jpg
pG3OaF11ReyX8KEC0pomyg_thumb_c5dc.jpg
+uO9ZCu1Qu2K5ssC1pQnPA_thumb_c5da.jpg
FAQ's
For information on our Pumpkin crop including tips on how to care for your Pumpkin, please visit our Pumpkin Crop Page
When should I visit?
As early as possible! Typically most people like to visit the Farm in late October to enjoy the half term Pumpkin Festival. However, for those only wishing to purchase Pumpkins, we recommend visiting earlier in October when the farm is quieter and there is a wider selection.
Will my Pumpkin last if I buy it early?
Yes! Pumpkins last a very long time. Traditionally Pumpkins and Squashes were stored for many months over winter as a valuable food supply. Your pumpkin will easily last until you are ready to carve it if you leave it untouched in a cool dark place.
Do I need to book just for Pumpkin Picking?
Yes, booking is essential.
Do I need to book to visit the Pumpkin Festival ?
Yes, booking is essential. There will be no tickets available on the door and our Pumpkin Festival frequently sells out.
Can I just turn up and pay on the door?
No. Booking is essential to avoid disappointment. There may be a small amount of 'no shows' and cancellations available each day, but please do not count on this.
Is there parking available?
Yes, there is plenty of parking available on The Farm for customers visiting Farm customers must use The Farm field car park rather than the Garden Centre car park which is a separate business.
Click here for directions and travel information.
Can I bring a picnic?
No, Food and drink may not be bought to The Farm. We have tried our best to accommodate this in the past, but sadly have been overwhelmed with littering. Food and drink are available to purchase in Crockford's Corner.
Can I bring my dog?
No, during October the Farm is simply too busy with many very excited children. We're very happy to welcome dogs on leads to the farm for the other 11 months of the year and apologise for any inconvenience.
Can I carve my Pumpkin?
Yes, during Half Term there is a dedicated carving area where you can carve your own Pumpkin. (Sorry only Pumpkins purchased from us, you can't bring your own). For Health & Safety reasons we cannot provide knives for you to carve with. Pumpkin carving kits are available to purchase.