2020 Visits cancelled
With great regret we have decided that with the new tier 3 restrictions coming into force on Wednesday (in Greater London and surrounding areas) we feel we cannot continue with our Father Christmas performances as safely as we would wish.
We are located on the Surrey and London border and many of our customers and actors would be required to travel from Tier 3. Although it's a grey area, we do not want to be responsible for people travelling between tiers which might cause the spread of the virus before Christmas.
We so hoped that the 'Show could go on' and realise this will a huge disappointment to families wanting a ray of sunshine in this bleak period, and for that we are all really sorry. Financially this will now be a huge burden for us to bear, however, the safety of everyone at this time is of paramount importance.
We will be working hard to refund your tickets before Christmas, please bear with us time wise.
Let's all look forward to 2021.. we will be able to have some fun together starting at Easter.
Happy Christmas.... be safe, take care.
Best Wishes,
Crockford Bridge Farm
Visit Father Christmas
Tickets are now on sale, however, some aspects will be different from previous years.
To avoid disappointment on the day you visit, please read on for important information about your visit this year.
Our visit with Father Christmas is unique and much loved walking performance through The Wonder Wood with your Elf guide.
Your group will walk through our beautiful Christmas Tree Forest to meet Father Christmas outside his Log Cabin. There is a gift for every child and a chance for you to take your own picture with Father Christmas. The experience lasts approximately 25 minutes.
This year, the entire experience takes place Outdoors and Face Coverings are mandatory for adult ticket holders. Distancing is in place and these provisions will allow for you to maintain a minimum distance of 1 Metre from anyone not in your household or bubble. Please do not book if you have expectations above and beyond these Government Guidelines.
Before booking, please be aware that buggies and pushchairs are not allowed into the Wonder Wood due to space restrictions.
Sorry, Dogs aren't allowed into the Wonder Woods to visit Father Christmas.
Tickets
Tickets are required for everyone entering the Woods regardless of age. Unlike previous years, infants or 'babes in arms' now count towards your total group size under the 'Rule of Six'. All babies must have a child ticket and an age appropriate gift is included. We appreciate this will not suit everyone, but please remember, this is now a legal requirement and not our choice. Those without tickets will not be permitted entry.
Child/Baby Ticket £17 (under 14 years) + booking fee
Adult Ticket £13 (14 years and older) + booking fee
Please note all ADULT ticket holders will be required to wear a Face Covering at all times when in the Wonder Wood.
Visiting with friends...
The 'Rule of Six' applies to Father Christmas visits.
This year your visit to Father Christmas is an experience for you and members of your own household. Unfortunately, accomodating extended support bubbles is simply too complex to administer and more importantly, open to abuse. Bookings are limited to a maximum of six people (including infants)
Please do not book to meet Father Christmas with friends or extended family as this is not possible.
As always, our priority is to allow as many children and their parents as possible to visit Father Christmas before opening spaces to aunts, uncles, grandparents and extended family (even if they are in the same support bubble as you).
Our ticketing system is set up to allow the overwhelming majority of our customers to make bookings. We are trying our best, but we may not be able to accomodate larger households or those with special needs this year, please be patient and bear with us.
Please contact us directly if you are having problems booking tickets for your family by email general@crockfordbridgefarm.co.uk
Cancellations
Getting to the point of releasing tickets for sale is a significant investment of time and money. We are a small family business and in these uncertain times when insurance for events is impossible to procure, we cannot commit to the risk of holding an event unless our customers are prepared to accept a small share of our risk.
Our Father Christmas visits will go ahead unless we are prevented from opening by restrictions put in place by The UK Government.
If we are required to cancel our event completely and we cannot reschedule your visit, a refund for the ticket value of your booking will be given.
Please be aware that all refunds will be for the ticket value of your booking less booking fees. Please do not book tickets unless you are comfortable with this.
If you're unable to attend due to having to self isolate, you must notify us as soon as possible. We can only ussue a refund if we receive sufficient notice you can't attend and we are able to re-sell your tickets. Please do not book tickets unless you are comfortable with this.
Only proof of self isolation from NHS Test and Trace will be accepted.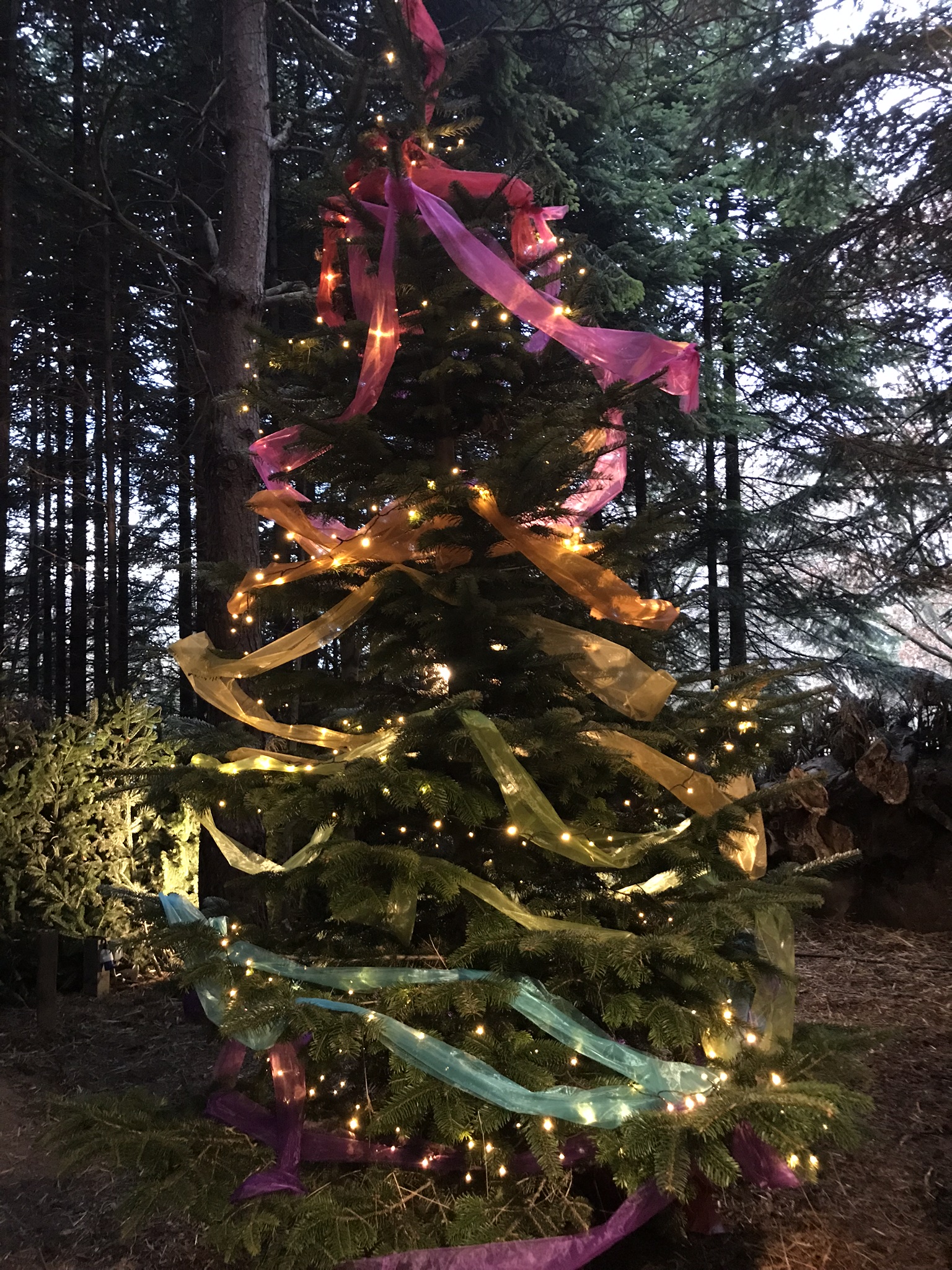 On the day...
Face coverings are mandatory and must be worn in the Wonder Wood at all times by adults (over age 14).
You may remove your Face Covering for a photo with Father Christmas only when a member of staff instructs you it is safe to do so.
Those with exemptions from wearing a Face Covering MUST provide satisfactory proof of their exempt status BEFORE making a booking. Sadly abuse of this rule is too commonplace for us to proceed any other way.
Please arrive at the farm and be ready at the Wonder Wood at least 15 minutes before the time stated on your ticket. Your tickets are to a specific time slot, sadly if you arrive late you will miss your visit with Father Christmas.
We strongly urge you to check local travel conditions before setting off and to allow plenty of time for unexpected delays. Roadworks and heavy holiday traffic on the M25 are common throughout December.
For everyone's enjoyment, group sizes are strictly limited to keep a special, magical feel in the Woods. It is not fair for customers arriving on time to have their group over crowded with latecomers and their own experience diminished.
Arriving on time is your responsibility, we cannot offer refunds or reschedule tickets for latecomers.
Sorry if this all sounds a little detailed and onerous. We are trying to manage peoples expectations in an open and transparent way following feedback from Our Pumpkin Festival, and hope you all have a wonderful time.
Detailed information on our Covid Policies can be found here.
Booking your tickets...
Tickets can only be booked online in advance and are not available on the day. When booking your tickets, please make sure you have fully entered your card details and received a confirmation email.
The 'Payment Confirmation' screen you will be taken to next (pictured) is NOT the final stage of the booking process....
BOOK TICKETS HERE only if you've read the previous information and understood everything :)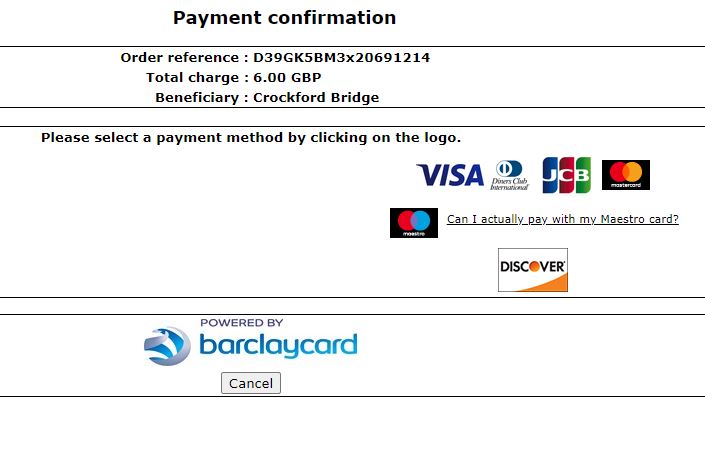 "We took our twins boys to santas forest today, I would recommend this to any parent. The set up and Santa were the best we have come across. Well worth a visit"

Lisa Murphy comment on Facebook 9th Dec 2012

"Amazing, best santa experience of all time. This an enchanting and magical setup, everyone involved should be very proud, you really have captured the magic of Christmas"

5* Review David Scott - Nov 2015

"Came here today with the family to meet Santa...totally amazing ...the children were totally absorbed by the magical enchanted forest and its Elves ...beautifully done...and Santa was fantastic ...many thanks to you and your team at Crockford Bridge Farm x"

5* Review Sam Stamps - Nov 2015

"We came yesterday and cannot recommend it enough! Truly magical"

Lizzie Rice - Nov 2015

"Went last year, Going again this year. Loved it."

Tina Michelle Killeen - Nov 2015

"We went yesterday and it was really magical. The kids loved every minute of visiting Santa and cutting down our own tree. What a way to start off our festivities. Thank you!"

Sophie Timon - Nov 2015

"We went yesterday it was so good I can't put into words will go again next year. It's just fab xx It's a must"

Carole Stemp - Nov 2015

"My two girls (age 6 & 8) me and my husband visited Santas Woodland Forest this afternoon and went on an enchanting journey with the beautiful woodland elves..... It was absolutely amazing... this experience was better than any other Santa we've ever seen. It is so creative and magical... my girls were absolutely enthralled from start to finish... and everything felt really imaginative and definitely sparked my daughters imagination... I would thoroughly recommend it to any family with children - even up to 12..... they even tell you a story."

Celia Malins - Nov 2015