Welcome to October at Crockford Bridge Farm
2020 update!
Our fields will be open for pumpkin picking this October and we are planning to hold our Pumpkin Festival. Things are going to be a little different this year. Please bear with us whilst we work out the final details! To be kept up to date, please don't forget to register for email updates at the bottom of this page.
There's loads of different things going on at the Farm throughout October. Take a look at our calender below for dates and times.
For the first two weekends of October, The Farm is open for Pumpkin Picking.
On Saturday 19th October, we open for half term fun in Crockford's Corner.
From 25th October The main Pumpkin Festival opens with all the fun of the fair and performances in The Wonder Wood.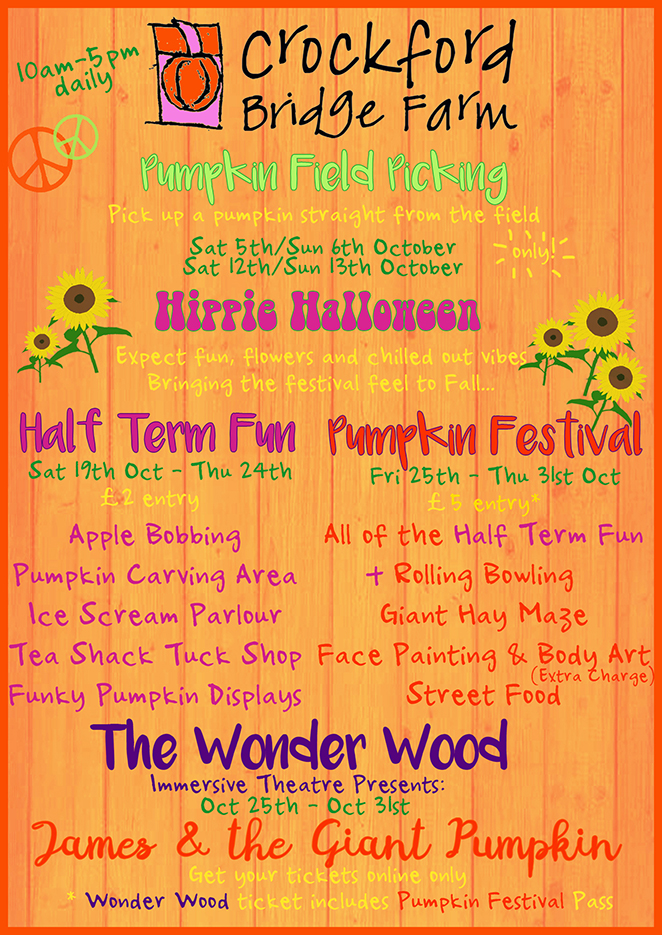 How Pumpkin Picking works
First 2 weekends in October only.
To make a booking you need to purchase a voucher in advance to cover the cost of your pumpkin (booking is essential for distancing and to allow us to manage footfall and our crop, no entry without a booking).
A voucher costs £4 per person and can be redeemed against the cost of your pumpkins at the exit till, (vouchers cannot be carried foward and are valid only on the day they are booked for). No change is given in the event you spend less than £4 per person.
Please bring your own carrier bags or wheelbarrows to take your pumpkins away as we do not provide these.
Please be aware that dogs are not allowed into our fields for hygiene reasons.
Sorry, buggies aren't allowed in our fields.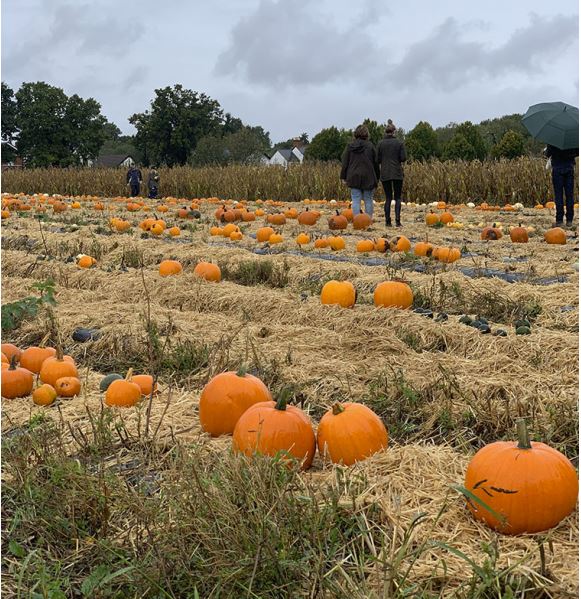 Booking your tickets...
Tickets can only be booked online in advance and are not usually available on the day. When booking your tickets, please make sure you have fully entered your card details and received a confirmation email.
The 'Payment Confirmation' screen you will be taken to next (pictured) is NOT THE FINAL STAGE OF THE BOOKING PROCESS... please follow the instructions and click on your card issuers logo to complete payment.
Tickets are non refundable. If you have booked for the wrong date or time, please email us general@crockfordbridgefarm.co.uk DO NOT MAKE A SECOND BOOKING.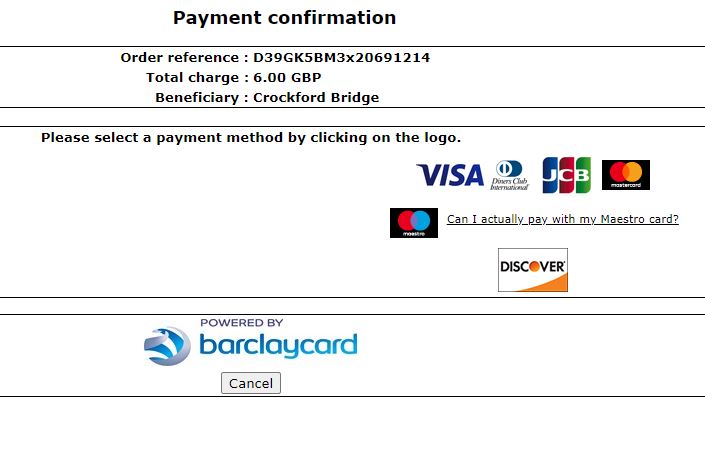 Video clip frum Our October 2021 Pumpkin Festival
Happy Vibes
We want everyone to have a fun time, chill out and enjoy the vibes at our 'Hippie Halloween'.
Parents are reminded children should be supervised at all times. Your child's safety and behaviour are your responsibility!
Please be respectful of our Farm, our crops and other customers.
Pumpkin Picking
Our fields will be open for Pumpkin Picking in October. Please check back for exact dates and booking arrangements.
We're not handing out unecessary plastic, so please don't forget bags to carry your pumpkins home!
Please remember that dog's aren't allowed in our growing fields for Health & Safety reasons.
If it rains heavily, we may have to close our fields for Health & Safety. Phone ahead 01932 846611 to check the fields are open before making a long journey.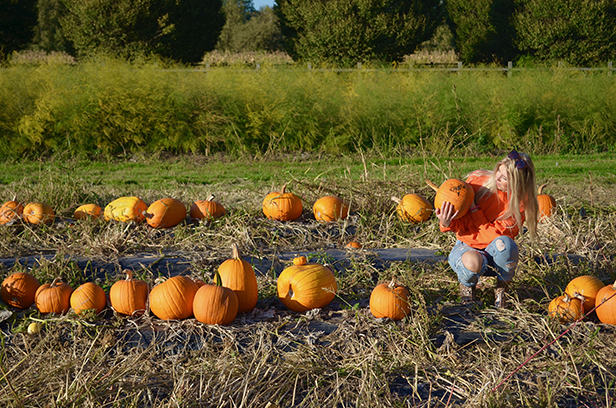 James & The Giant Pumpkin
Friday 25th Oct - Thu 31st Oct 2019
From Friday 25th Oct 2019, The magical Wonder Wood opens and our immersive Woodland Theatre returns with a cast of travelling performers arriving to tell their tale.
This year, join James and his insect friends on a quest through the Wonder Wood. You'll find a little magic goes a long way.
This year there are less performance days and we are holding fewer performances each day. This is to make each performance last a little longer and more magical. We sold out of tickets last year, so please remember to book early.
Tickets to the Wonder Wood should be booked in advance as we often sell out.
When booking, please remember the Wonder Wood is outdoors. Your tickets are for a specific time slot. If you are late you will miss your show!
Half Term Fun
Saturday 19th Oct 2019 - Thu 24th Oct 2019
£2 entry
Many schools are holding Half term at different times this year, we follow Surrey County Concil's published term dates but are holding 'Half Term Fun' for some of our customers who are on Half Term early..
Join us from Saturday 19th for fun activities, the main Pumpkin Festival begins on Friday 25th Octobe During Surrey's Half Term.
Our Ice Cream Parlour is open serving a wide range of incredible Italian Gelato from nearby Geleteria Danieli.
Tea Shack Tuck Shop. Whether you're after a warming hot chocolate. Spiced apple juice, Halloween chocolates or Toffee Apples. A visit to the Tea Shack is always in order.is open serving Coffees, Hot Chocolate with marshmallows, Toffee apples and more!
Pumpkin Carving area. Purchase your pumpkin, carve it here and let us clear up the mess
Pumpkin Festival
Fri 25th Oct - Thu 31st Oct 2019
£5 entry
Ticket holders for The Wonder Wood Performance receive a free pass to The Pumpkin Festival.
Expect all of our Half Term fun plus...
Giant Hay Bale Maze - Climb, up, round and over the hay bale maze!
Thousands of Pumpkins and Squashes - Browse thousands of pumpkins laid out for sale in our Pumpkin Sales area. Have fun enjoying our quirky autumnal displays.
Pumpkin Carving area Carve your own pumpkin and let us clear up the mess. We cannot provide sharp knives to Children for Health & Safety Reasons.
Photo Booths, huge pumpkin displays and arty installations.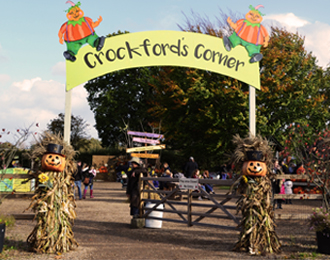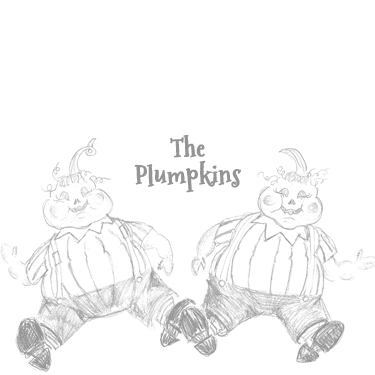 Pop Up Streetfood. Enjoy field to Fork Burgers and Hot Dogs provided by Happy Herefords. This year we are also joined by Fired Up Pizza!
Wonder Woods Promenade Performance - Book tickets early to visit our quirky, immersive theatrical performance which takes place deep within Wonder Wood.
UNADJUSTEDNONRAW_thumb_c666.jpg
UNADJUSTEDNONRAW_thumb_c640.jpg
Envy Halloween - edit sml.jpg
Hungry Halloween - Edit sml.jpg
UNADJUSTEDNONRAW_thumb_c4da.jpg
OxKXcr7XTIG6BVWx9DI+Fg_thumb_c6a9.jpg
FdNORVCjQm+BH6gpb2kXfw_thumb_c78a.jpg
3eOyeavYT%uiHLIbFDaVrw_thumb_c783.jpg
zQf0lVEcR2SQBajGmQqHGA_thumb_c776.jpg
ri9WHWfLRGeuUVgqSlK0Dg_thumb_c778.jpg
hYMvBHaOT+WPW0mSp5vvXA_thumb_c775.jpg
gVwML0OsT2yu3MOIAW8YwA_thumb_c77f.jpg
gX7pGQuARt64vrylS7me3A_thumb_c77c.jpg
UNADJUSTEDNONRAW_thumb_c660.jpg
UNADJUSTEDNONRAW_thumb_c58e.jpg
XgS4CsyrSx+n%EkSRtdbEQ_thumb_c5d0.jpg
PYvdRW+VRlakzW++gHGALg_thumb_c5ec.jpg
UNADJUSTEDNONRAW_thumb_c576.jpg
DPWsdXIfQQeU9R1ObkoIxQ_thumb_c5e6.jpg
FqCo6O0ARPOdjLb8dJ0obQ_thumb_c5de.jpg
pG3OaF11ReyX8KEC0pomyg_thumb_c5dc.jpg
+uO9ZCu1Qu2K5ssC1pQnPA_thumb_c5da.jpg
FAQ's
For information on our Pumpkin crop including tips on how to care for your Pumpkin, please visit our Pumpkin Crop Page
Can I pick my own Pumpkin from the field?
Yes, but only during our Pumpkin Picking Weekends. From the middle of October, we move all of our pumpkins to our sales area to protect them from groundfrost damage.
Do you take Card Payments?
Yes, but please remember our event takes place outdoors on a working farm.
There are no ATM's or Cashback facilities anywhere on the farm.
Is there an entry charge to the Pumpkin Festival?
Yes there is an entry charge to enter the farm during Half Term fun week and our Pumpkin Festival 19th Oct - 31t Oct. This is payable on the gate.
Entry to the Pumpkin Festival is included for those with tickets to The Wonder Wood Performance.
There is a wide selection of Pumpkins available in our Farm Shop for those not wishing to pay entry to the Pumpkin Festival. Alternatively, you may wish to visit the earlier in October when it is very quiet as uncut pumpkins will store for months.
How can I book tickets to the Woodland Show?
You can book tickets to our Woodland Theatre show by clicking here (theatre tickets include the entry to The Pumpkin Patch).
Is there parking available?
Yes, there is plenty of parking available on The Farm for customers visiting The Pumpkin Festival. Please make sure to use the Farm Car Park rather than the adjacent Garden Centre Car Park.
Click here for directions and travel information.
Can I bring a picnic?
No, Food and drink may not be bought in to the Pumpkin Patch or the farm. We have tried our best to accommodate picnickers in the past, but sadly have been overwhelmed with littering in recent years. The Pumpkin Patch is a catered event. Food and drink are available to purchase at Crockford's Corner.
Can I bring my dog?
No, sadly dogs are not allowed during our Pumpkin Patch Event. The Farm is simply too busy with hundreds of very excited children running around. We are very happy to welcome dogs on leads to the farm for the rest of the year and apologise for any inconvenience.
Can I carve my Pumpkin?
Yes, during Half Term there is a dedicated carving area where you can carve your own Pumpkin. (Sorry only Pumpkins purchased from us, you can't bring your own). For Health & Safety reasons we cannot provide knives for you to carve with. Pumpkin carving kits are available to purchase.
"Super good fun in the pumpkin patch !! Loved carving pumpkins and my little one had a blast on the playground!"

5 Star Review from Sofia Almudena Plana on Facebook

"We visited for the first time yesterday and had such a lovely afternoon choosing pumpkins, eating toffee apples and exploring. A wonderful place!"

5 Star Review from Megan Rorke on Facebook