Pumpkin Festival
PUMPKIN FESTIVAL - SOLD OUT
After overwhelming requests, we have made the decisions to continue with both our Pumpkin Festival and Father Christmas visits this year on a much smaller, more intimate scale.
Tickets can be booked at the end of this page.
Please read through the following page for important information before booking your tickets .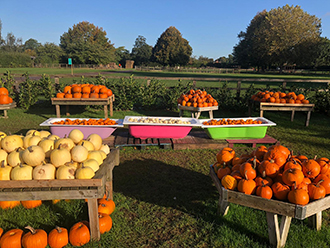 Safety Precautions.
The following safety precautions are in place to make our Pumpkin Festival compliant with Government advice on Covid-9 and safe for everyone attending. These are a condition of entry, anyone contravening will be asked to leave.
Temperature Checks - Everyone entering the Pumpkin Festival will be temperature checked on entry. Anyone presenting with a temperature will not be permitted entry to the Festival.
Bookings only – In order to control numbers and maintain distancing, tickets for everyone attending (including infants not paying) must be booked in advance. Anyone arriving without a ticket will not be allowed entry.
Less people on site - We have significantly reduced the number of tickets available to ensure a quieter, calmer environment where everyone can easily socially distance.
2.5 hour Sessions - Your Pumpkin Festival ticket is for a 2.5 hours slot rather than an all day pass. This is to manage peak time rushes and to ensure people can safely attend the Pumpkin Festival. We understand this is different to previous years and may not suit everyone. It will be a much nicer, less crowded experience. This is the only viable way for us to hold our Pumpkin Festival this year.
Bubbling - No more than 6 people may book at a time. Stewards will be on site reminding customers of the need for distancing. Those forming large groups or not complying with Government guidance will be asked to leave.
Sanitiser Points - Hand sanitiser points will be available at the entry and exit and also at various locations throughout the Festival.
Socially distanced queuing - We have clearly marked lines and barriers in place for those queuing with appropriate distances clearly marked.
One Way System - There will be a one way system in place for the entire Pumpkin Festival using separate entrance and exits.
Toilet facilities - Toilets on site are only available for those purchasing Pumpkin Festival tickets online to reduce the number of people using them. There are no toilet facilities on site for those making a short visit simply to purchase pumpkins.
Pumpkin Sales Area - A new socially distanced, dedicated sales area outside of the Pumpkin Festival will be open this year. Those wishing only to purchase a pumpkin can simply turn up without booking.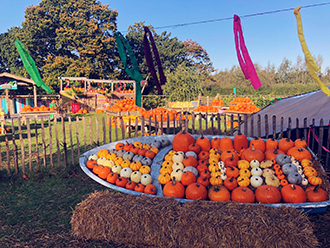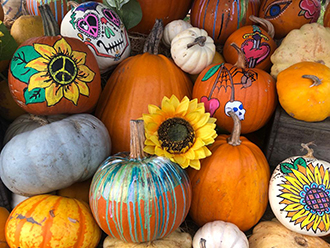 Planning your visit
Check travel conditions before leaving home and allow plenty of time to arrive on site, park, check in. We reccomend planning to arrive at least 30 minutes before the time you have booked for to make the most of your time on site.
In accordance with Government guidelines, bookings may only be made by groups of up to 6 from the same household. We will be monitoring our event and forming larger groups or failing to follow this advice will be asked to leave.
The Farm is an outdoor venue. If it rains, the show goes on! If it's cold, the show goes on, it it's windy, the show goes on! Please check the weather forecast before leaving and come prepared with suitable clothing, footwear and umbrellas if necessary! Our Festival will only be cancelled in the event of extreme weather conditions where there is a significant risk of injury.
Pushchairs are not permitted in Picking fields, they can be left safely at the entrance to the Woods.
Personal photography is allowed, please be respectful of other customers. Professional photoshoots, or staged photographs that inconvenience other customers are not allowed.
Cancellations
Our small, private, outdoor Pumpkin Festival is an incredibly safe space for our customers to enjoy whilst purchasing a Pumpkin. Our Pumpkin Festival will go ahead unless we are prevented from opening by a complete lockdown put in place by The Government.
In this instance, a refund of your Ticket will be made minus your booking fee. Please do not book tickets unless you are comfortable with this.
If you are unable to attend due to having to self isolate, you must notify us as soon as possible. We are only able to refund the ticket value of your booking if we are able to re-sell your tickets.
We have incurred significant costs simply in getting to the stage of being able to sell tickets. In these uncertain times we are unable to commit to the risk of holding any event without ticket holders being prepared to accept some small share of our risk. Please do not book tickets unless you are comfortable with our policies.
Continue to our booking site...
When booking your tickets, please make sure you have fully entered your card details and received a confirmation email.
The 'Payment Confirmation' screen you will be taken to next (pictured) is not the final stage of the booking process....
As part of the booking process you will be asked if you have understood and agree to our Covid precautions.
Detailed information on our Covid Policies can be found here.