Pick your own - Asparagus
Asparagus (asparagus officinalis)
When available to pick (April - June)*
*PYO availability can vary on a daily basis, see below for more information or call us on 01932 846611 for daily availability, particularly before making a long journey.
Asparagus has one of the shortest growing seasons of any of our crops (approx 8 weeks). Traditionally the season starts on St George's day (23rd April) and finishes on Midsummer's eve (21st June).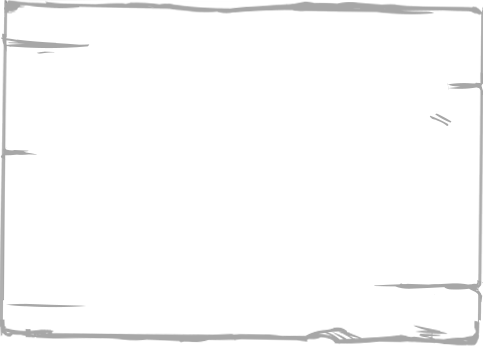 AVAILABLITY
Apr - Jun
Varieties grown
Gijnlim. This is a very early ripening variety characterised by very high production potential and an exceptionally reliable harvest quality.
Growing Asparagus
Asparagus is a very temperamental crop requiring a great deal of patience to grow. After the initial planting it is essential to leave the plant alone for three years until it is ready to start harvesting from.
How to pick
Asparagus requires a 3 year time and land investment before we are able to begin cropping or open it for Pick Your Own. In order to keep our fields open to the public it is very important customers carefully follow our picking guidelines. Many farms have closed their picking fields due to the damage caused by careless pickers.
Please ensure you do not walk across the raised beds on the asparagus crowns while you are picking - children must be closely supervised in the field by their parents.
Asparagus spears must be at least 8 inches in length before they can be cut (a short white area should be just visible at the base) shorter spears are not ready and should be left to grow.
All asparagus must be cut at ground level (pictured) taking care not to injure the other buds on the crown.
Cutting asparagus too high or snapping off only the tips damages the plant and you will be charged a higher price. Unlike other crops, cutting asparagus requires a sharp knife. We have a limited amount available and strongly advise customers to bring their own.
For Health and Safety reasons we are unable to provide cutting knives to children.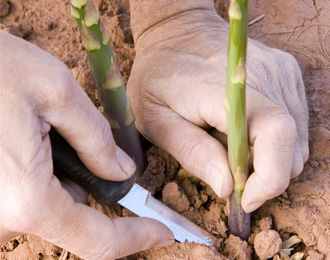 Asparagus facts
Asparagus is native to most most of Europe, northern Africa and western Asia but is now farmed across the world.
Asparagus contains vitamin K and is high in folate, fibre and potassium
Asparagus is a member or the lily family and is botanically related to onions, leeks and garlic.
Asparagus can be white, green or purple. The asparagus we grow on the farm is all green. Purple asparagus presents an interesting looking spear but loses it's colour on cooking, returning to green. White asparagus is grown under ground. Because the spears never receives direct sunlight, they don't photosynthesise remaining white and will not turn green upon cooking. White asparagus is very popular in mainland Europe.
Research suggests eating asparagus can help ease hangovers and protect liver cell's against alcohol's toxins.
Asparagus and spinach soup topped with chive creme fraiche
Asparagus is a versatile ingredient and can be enjoyed in so many ways. The first of the crop is almost always quickly steamed and ravenously enjoyed with generous dollops of hollandaise sauce. As our initial gluttony subsides and the season progresses, soup is a fantastic way to enjoy our crop. Soup not only tastes great, but can be easily frozen to provide a taste of asparagus long after the season finish on Midsummer's Eve after which time the only asparagus left on the shelves is the inferior South American import.
12 stems of asparagus stems removed and finely chopped
1 medium white onion diced
50g of unsalted butter
1 clove of garlic crushed
800ml of vegetable stock
2 tbsp of freshly chopped chives
100g of spinach
4 tbsp of creme fraiche (1 tbsp per soup portion)
Method
Prepare the asparagus by removing the hard stems (keep four of the asparagus heads for garnishing the soup) then finely chop.
Place a saucepan on the heat, add a little olive oil and the butter, then add the diced onion and garlic sweat for 5 minutes on a low heat.
Now add the chopped asparagus and continue to sweat for another couple of minutes, add the vegetable stock bring to the boil and simmer for 20 minutes. Add your spinach to the soup and simmer for 2 minutes then remove from the heat and put into a blender and blitz in batches.
The spinach always goes in last thing to make sure it retains that lovely green colour.
Once the soups blended put through a sieve to remove any lumps, mix your crème fraiche with the chopped chives and a touch of salt and pepper to taste.
Menu reproduced with thanks to The British Asparagus Growers Association