The Summer PYO will close on Sunday 24th September.
Like many other PYO Farms, this is the best way to manage our crop and ensure a consistent supply of fruit for our customers throughout the picking season.
Bookings are required during our peak months of June, July and August - there is no need to book in September.
Scroll down to see what is available to pick today.
What's picking today....
(please refresh your browser in case you're viewing a cached, out of date version of this page)
*Please be aware that crops marked 'Limited' may become unavailable during the course of the day.
PYO ettiquette
Crockford Bridge Farm is a working farm and business. We respectfully ask all visitors read the following rules which are a condition of entry. We reserve the right to remove or refuse entry to anyone failing to follow our rules.
Do not eat our produce before paying at the exit tills. PYO farms rely on trust, eating fruit in the fields before paying for it is theft and compromises our ability to keep the farm open. We rely on the sale of our crops for our livelihood.
Produce must be paid for when leaving the picking fields. Please do not climb over fences or visit any other area of the farm before paying for crops. Doing so is generally viewed as an attempt to avoid payment.
Receipts must be kept as proof of payment at all times. Due to theft, security checks are in place.
Only pick crops in the designated, signposted location. Picking locations change from week to week and when fields are closed, this is for very real Health and Safety reasons even if the crops look ready to pick. There may be plants growing across the farm and in hedgerows that are not fit for human consumption. Be aware that high pressure irrigation systems, shooting, pest control and moving farm machinery are often in operation in closed areas.
Please only pick ripe fruit! Fruit will not continue to ripen once picked! Picking unripe crops is a waste of both our crop and your money. Flowering crops may not be picked!
Please pick only what you are prepared to pay for. Prices are clearly displayed at the entrance and our staff are happy to help you work out likely costs etc before you start picking. You will be charged for everything you pick.
Please treat our fields with respect. Rows of crops are exciting for children to jump over but doing so can damage our crop and affect our livelihood.
Visiting the farm
Please supervise your children, Crockford Bridge Farm is a working farm with various hazards from moving farm vehicles, high pressure irrigation systems and uneven ground.
Crockford Bridge Farm is private property. Access to the public is permitted only during opening hours. Picking outside of opening hours is not permitted and will be viewed as theft.
Frequently Asked Questions
How PYO Works
1. Make an advance booking by purchasing a Farm Pass (link below). .
2. Visit the Farm on the day of your booking to pick crops. Check in and collect your tokens
3. Crops are sold by weight at the exit till where you can redeem your farm pass.
Your Farm Pass is a minimum spend. No change or refund is given should you pick less than the value of your Farm Pass or if a particular crop is unavailable.
Farm Passes can only be against PYO produce.
Adults £3 (15 years +)
Children £2 (1-14 years)
Infants - No charge, but please be aware of our child to adult ratio (below) and also that buggies are not permitted into the picking fields.
Because of changeable weather conditions we can't guarantee every crop will be available to pick every day.
Our site is a working farm with various hazards. Children must be properly supervised at all times. For Health & Safety reasons, we require at least one adult per two children. Group sizes are limited to 6 people. Groups exceeding this threshold will not be permitted enty to the fields.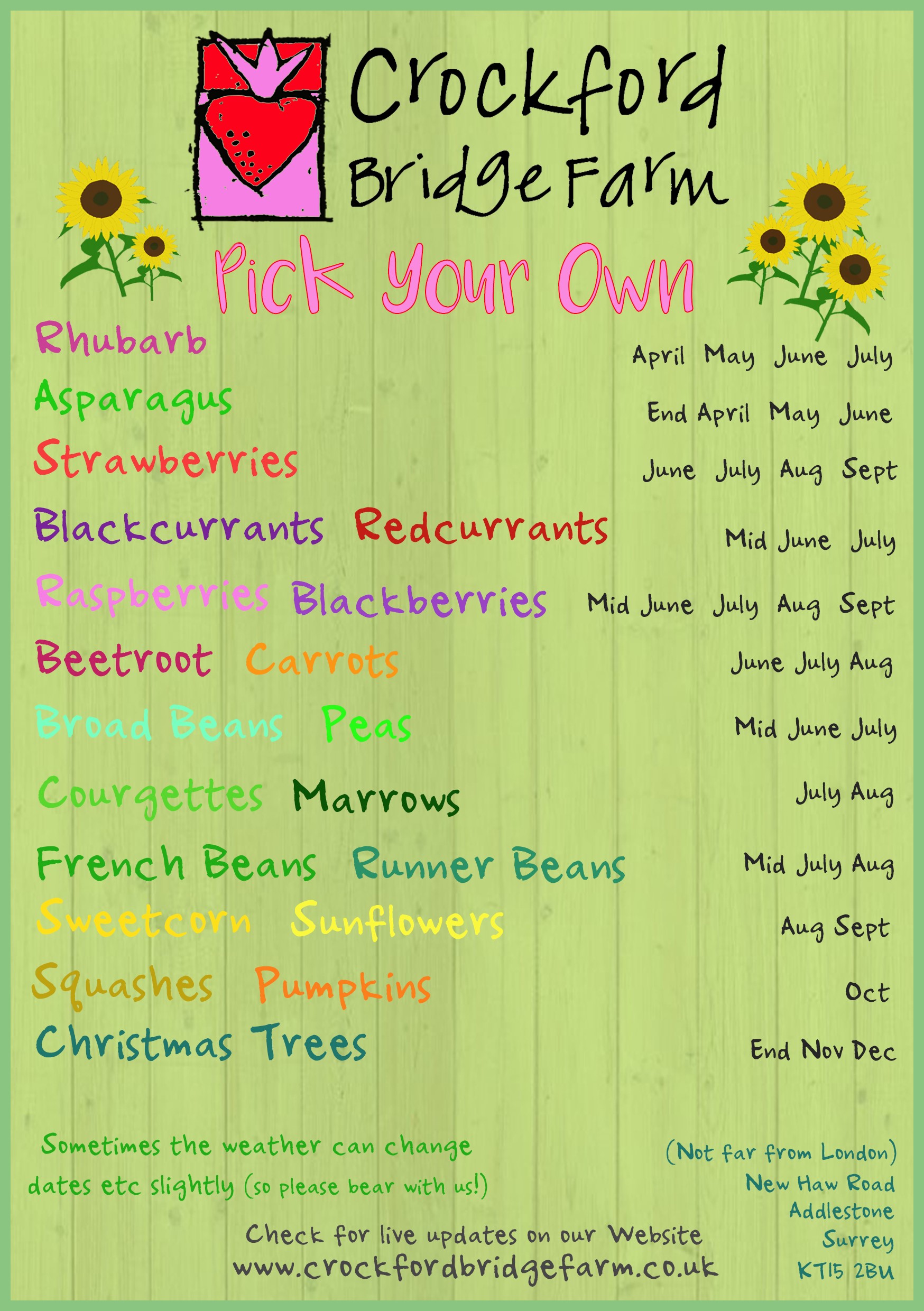 Growing Methods
Our farm is one of the few large open spaces left in our surrounding neighbourhood. Despite the ever encroaching urban sprawl, our land actually forms part of the Surrey Metropolitan Green Belt.
Every year we work hard to grow the best quality fruit we can whilst minimising our impact on the environment. We employ highly skilled agronomists who work with us to achieve these aims.
We use an integrated crop management policy which employs natural predators to help with pest control.
Over recent years we have planted extensive new hedgerows to provide natural windbreaks and help encourage local fauna.