We open for Christmas Tree sales on Saturday 25th November.
Pre-cut trees 10:00 5:30pm
Cut Your own 10:00am - dusk (no cutting after dark for Health & Safety)
Please read on for more information about the Christmas Trees we sell and also for Cutting your Own Tree and how to make a booking for this.
Bookings are essential for Cut your own.
There is no need to book simply to purchase a pre-cut tree.
Cut Your Own
*Bookings open early November*
Customers without a valid booking will not be able to cut a tree. Your Tree Voucher is redeemed against the final cost of your tree at the till.
*Tree Vouchers cannot be redeemed against Cut Trees. Please do not make a booking unless you intend to Cut Your Own Tree!*
Due to increasing demand, only a set number of trees are available to cut each year. This is to preserve the following years crop and maintain our 8 year growing rotation.
We're one of the few farms in the South East you may visit to cut your own Christmas tree. This is a fun experience for the whole family and really adds to the magic of Christmas. For Elf & Safety reasons ALL customers must have a booking and check in before visiting our Tree Plantations.
Pricing varies considerably depending on the type of tree you choose and also the height. As a rough guide, a 6 ft tree will roughly cost between £40 - £60 depending on variety.
Please be aware of the following terms and conditions.
There is a wide variety of trees available but please be flexible as we cannot guarantee the precise combination of tree type and height you want will be available on the day of your visit.
Trees must be cut at ground level. .
The minimum height tree that may be cut is is 4ft.
Tree cutting is only permitted in daylight hours (10am - 4pm).
Vouchers may not be redeemed against pre-cut trees.
Christmas Trees on the farm are felled at Customer's own risk
Please bring your own hand saw, Chainsaws are not permitted on site. Please take great care with saws, no children should touch or handle saws.
Trees greater than 10 feet, or under 4 feet may not be cut.
When felling your tree, please ensure no other customers, especially children, are nearby. It is important to consider the angle of fall.
Please dress appropriately for the weather. The fields can be muddy and wet in December. Be aware of hidden tree stumps and uneven ground when moving through the Christmas Tree plantation.
Please follow the link below to book...
Please email us directly should you need to amend your booking.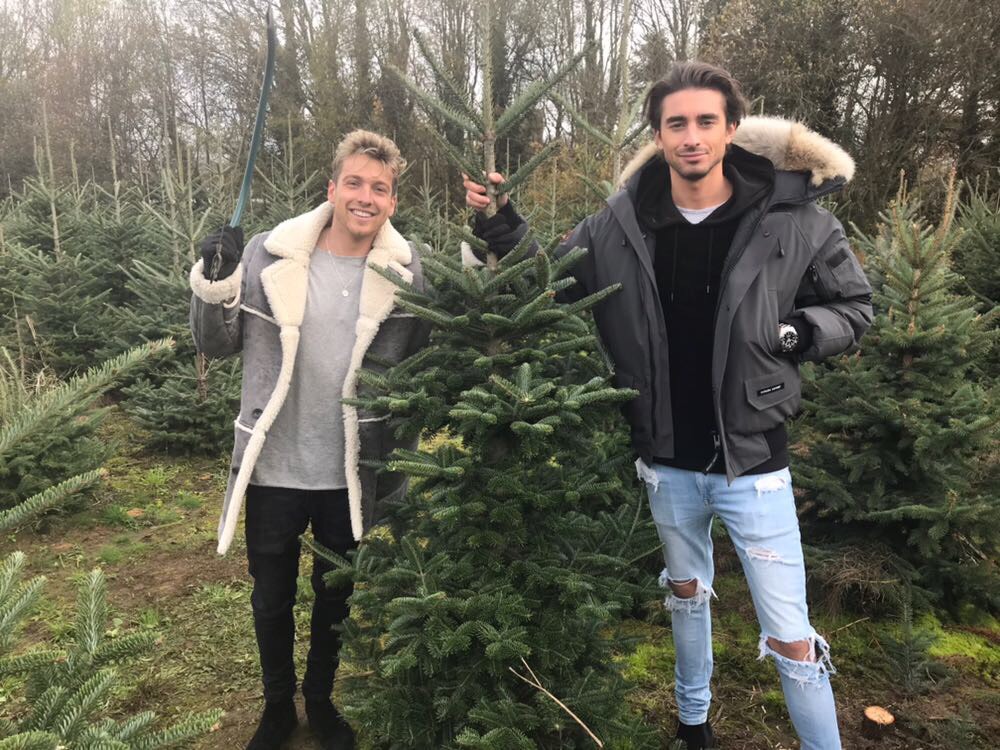 Christmas Trees types
We grow various different types of premium Christmas trees and are one of the few farms in the South East able to offer a cut your own experience which is a fun outing for the whole family.
We also regularly supply trees to nearby film and television studios as well as major TV productions including Made in Chelsea, Call the Midwife and Eastenders.
With a quality, freshly cut tree you really get what you pay for.
No variety of Christmas tree is inherently 'non drop' the rate of needle drop experienced can be much more to do with how fresh a tree is rather than the variety of tree. Cheaper trees are often cut months before Christmas and then dry out, resulting in needle drop.
A real Christmas tree is better for the environment too! According to the British Christmas Tree Growers Association, one hectare of Christmas Trees will absorb six tonnes of carbon dioxide per year and will biodegrade once used. By contrast a plastic tree will take centuries to degrade in a landfill.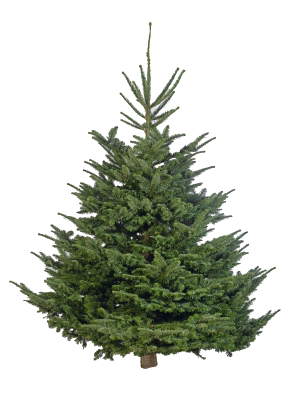 Nordmann Fir.
Nordmann Firs provide the classic Christmas tree shape and are easily the most popular choice of Christmas Tree in the UK. The needles are soft yet generously full to provide a plump, filled out tree.
We only sell premium grade Nordman Firs which are freshly cut and trimmed for a better shape and longer life.
Norway Spruce
Norway Spruce trees are for many people the quintessential Victorian Christmas tree and were the Christmas Tree of choice from the late 1880s onwards.
The thinner needles provide a more elegant tree shape and makes this variety of tree particularly well suited to showing off tree ornaments.
Norway Spruce trees are a less expensive alternative to Nordmann Firs as they grow at a much faster rate.
Norway Spruces give off a pleasant Christmas Tree scent.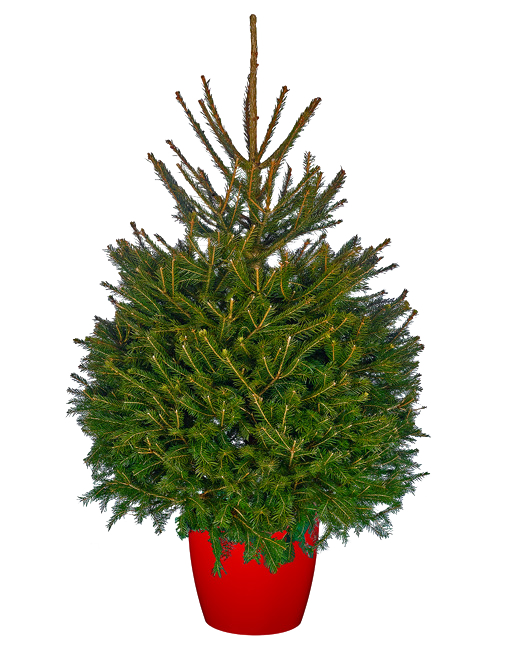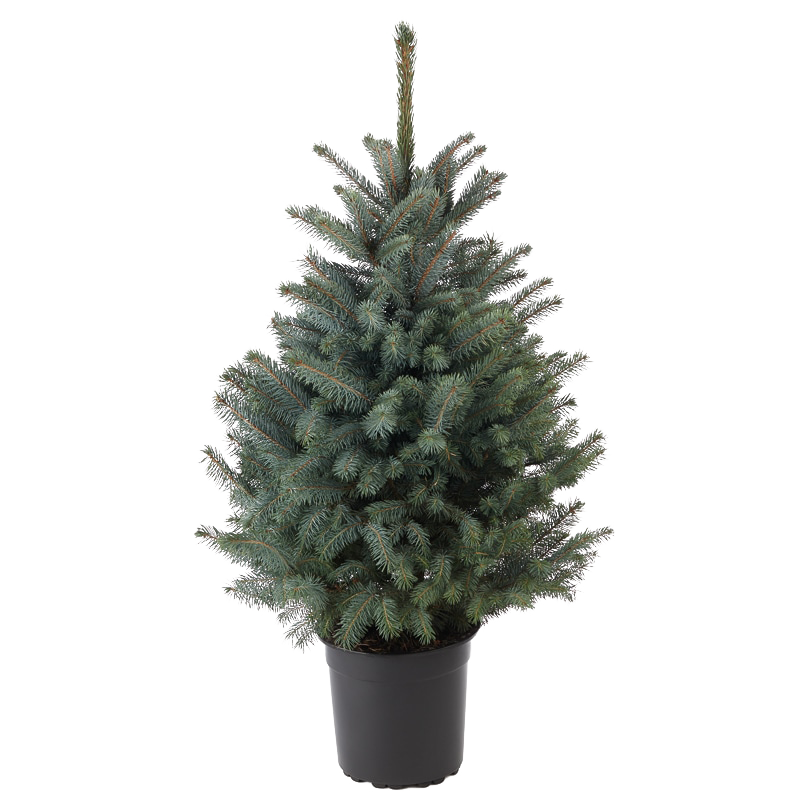 Blue Spruce
An interesting alternative to all of our trees, the Blue Spruce is a bushy tree similar in appearance to a Nordmann Fir.
The needles of the Blue Spruce have a distinctive bluey green hue which is highly prized by those looking for a slightly alternative tree.
These trees are particularly prickly, definitely bring gloves if you plan to cut your own!
Fraser Fir
A relatively new planting on the farm. Fraser Firs have a good uniform pyramid shape with dense branches.
Fraser Firs carry a pleasing pine scent that makes them the tree of choice for many customers.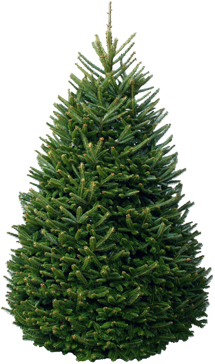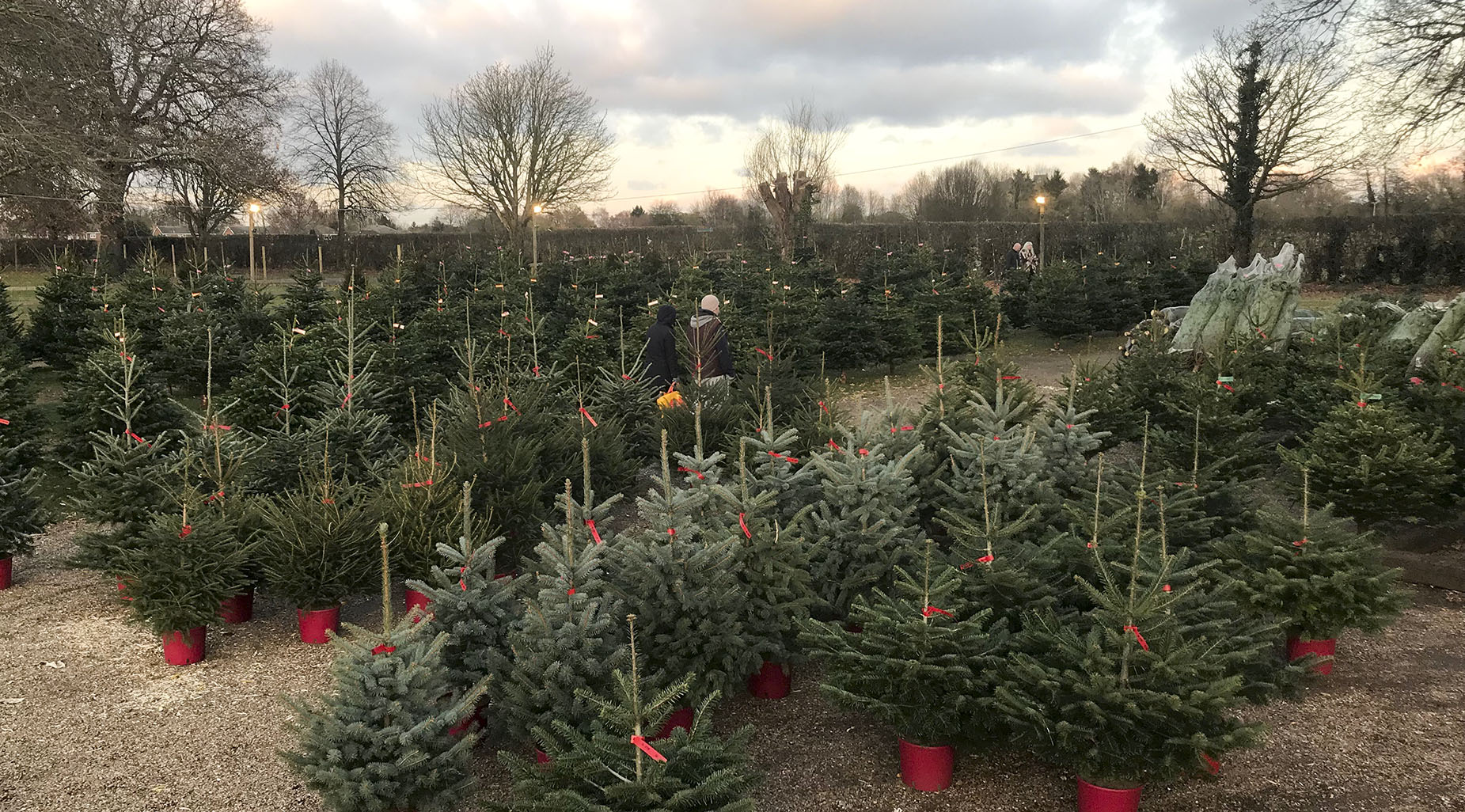 Potted Trees
We have a variety of potted trees available for sale in varying sizes up to 6ft tall. Potted trees tend to retain their needles for longer but still suffer root damage as part of the potting process!
Our potted trees are dug with a small root ball rather than 'pot-grown', some customers successfully replant their trees, but we do not guarantee any potted tree will re-grow if planted out.
Buying Your Christmas Tree
We display our trees unwrapped on spikes so you can fully inspect the tree from all angles before you buy.
Once you've chosen your tree, one of our staff will net your tree for easy transport and help to load your car.
The vast majority of trees will easily fit into most cars. We do not offer a delivery service.
There is no need to book if you are visiting to buy a pre cut tree
Caring for your tree
A real Christmas Trees is a natural product and each one is unique. Please remember they are perishable products requiring care and attention and have a finite life. Looking after your Christmas Tree correctly is the most important way to reduce needle drop. If you have any concerns about your tree, please contact us as soon as possible.
The most effective way to prolong your tree's life is to display it in a traditional reservoir stand and keep it topped up with water.
Once home, it is best to stand your tree in water as soon as possible. Store it somewhere cool until you are ready to start decorating.
Keep your tree away from direct heat sources. Placing your tree next to radiators and other heat sources will cause the needles to drop.
Please keep your receipt. Christmas trees are perishable goods and non refundable. In the unlikely event your tree suffers unusually heavy needle loss we will offer a replacement tree subject to availability. We require any faulty tree to be returned to the farm for inspection. Any offer of a replacement tree is entirely at our discretion and will not be offered without proof of purchase.
Our potted Christmas trees are harvested with a small portion of root, and not pot grown. There is no guarantee these trees will survive replanting and they are not sold as planting stock.
Christmas Tree Returns
Christmas trees are perishable goods and non refundable. The longevity of your tree is dependent on the care it receives and the conditions it is displayed under.
If your Christmas Tree suffers unusually heavy needle loss or you have any concerns about ity please contact us as soon as possible by emailing general@crockfordbridgefarm.co.uk
It is always helpful to email pictures so we can investigate and resolve the problem.
In the unlikely event your Christmas tree experiences heavy needle drop a replacement will be offered.
All offers of a replacement tree are subject to proof of purchase being provided under The Consumer Rights Act.