THE AVANT GARDEN
The Avant-Garden
[ av-ahnt-gahr-dn] French-English
(n.) 1 . A space for the enjoyment of like-minded people, who lead experimental, radical, daring and unorthodox lives.
2 . An artistic and innovative place, let your dreams unfold.
No Notting Hill ? No problem.
THE AVANT CARNIVAL has got you covered! Get your CARNIVAL FIX...
SUNDAY 29th AUGUST (Bank Hol) 12-9PM
With Live DJ set from : YNG CPTN X IC
Bringing you the best: AFRO BEATS , REGGAE, SOUL, SOCA, DANCEHALL & SKA MUSIC
EAT UP, DRINK UP & DRESS UP (Carnival Colours strongly Encouraged, Glitter & the Works!)
CARIBBEAN FOOD, RUM COCKTAILS, BAR DRINKS, PIZZA & CORN ON THE COB (straight from the farm fields).
Train Station: Byfleet & New Haw, West Byfleet or Weybridge - 3o mins from Waterloo - Uber is available in this area
OVER 18'S AFTER 6PM
EARLY BIRD TICKETS NOW AVAILABLE:
- CLICK THIS LINK BELOW -
http://CROCKFORDBRIDGEFARM.DIGITICKETS.CO.UK/TICKETS
PLEASE NOTE THAT TICKETS ARE PURELY FOR ENTRY & TABLES ARE FIRST COME FIRST SERVED
SO PLEASE ARRIVE EARLY TO GET A GOOD TABLE!
BLESS UP! X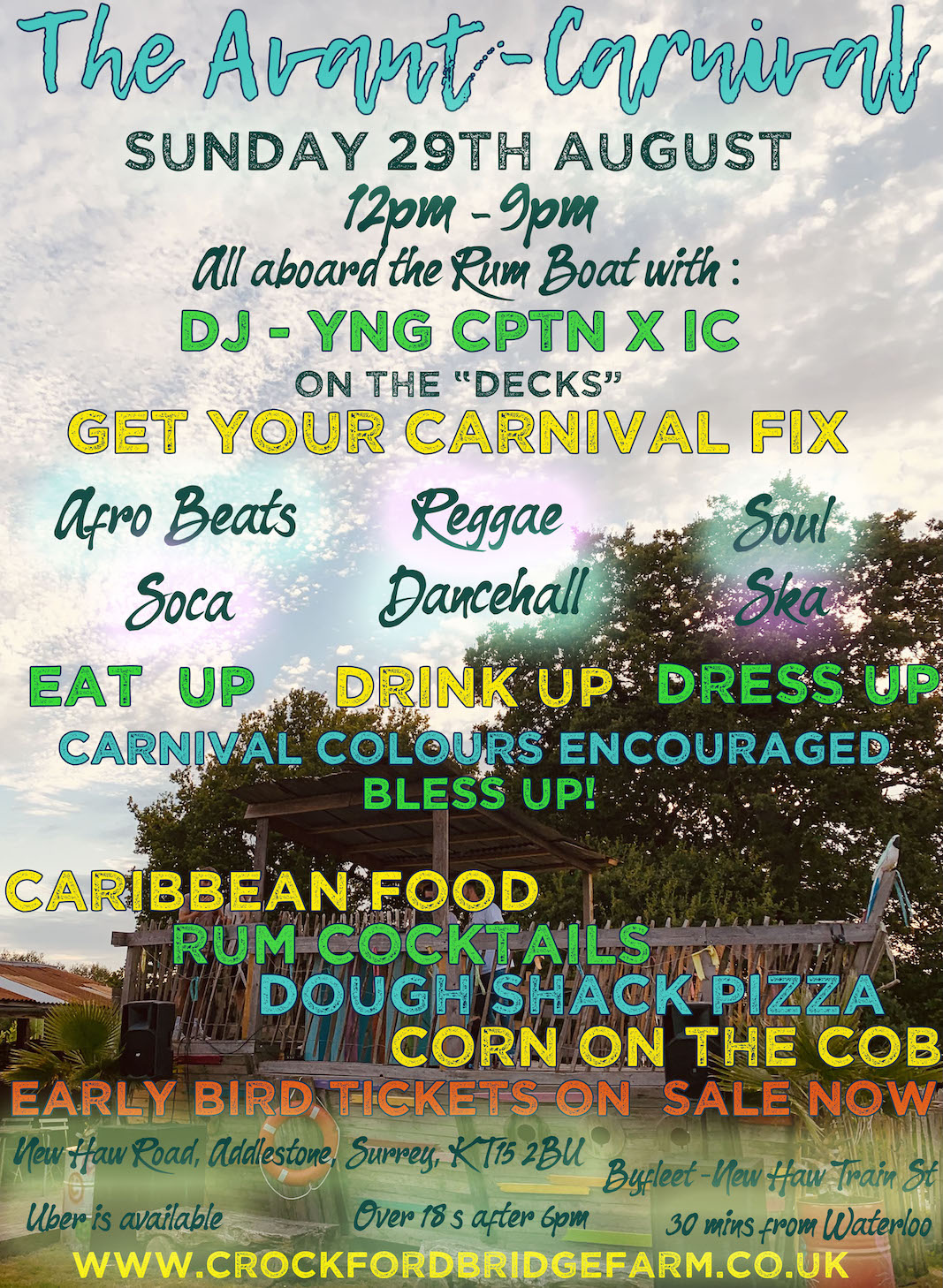 Private Hire
The Avant Garden is fully licensed and will soon be available for hire for Private Hire for parties, functions and events. Please contact us for further information by emailing general@crockfordbridgefarm.co.uk